The SHM Shireinu Project is our incomparable Music Program!
Led by Rabbi Bryan Zive and our exceptional Shireinu Project Faculty, we create powerful and captivating musical experiences through worship, education and performance.
OUR SHIREINU PROJECT PROGRAMS
One Voice Shabbat (In Memory of Ann Browne)
The Last Friday of the Month at 7:30 pm
This is the sound of One Voice! One Voice Shabbat fills our spirit through the power of musical prayer. With special musical guests and themes, these services will make you move and groove.
January 28: "Dodi Li: I am My Beloved's"
February 25: "Love, Actually, is All Around"
March 25: Artist in Residence Elana Arian
April 29: "A Good Ol' Fashioned Love Story"
May 27: "I'll be There for You"
June 24: "The Power of Love"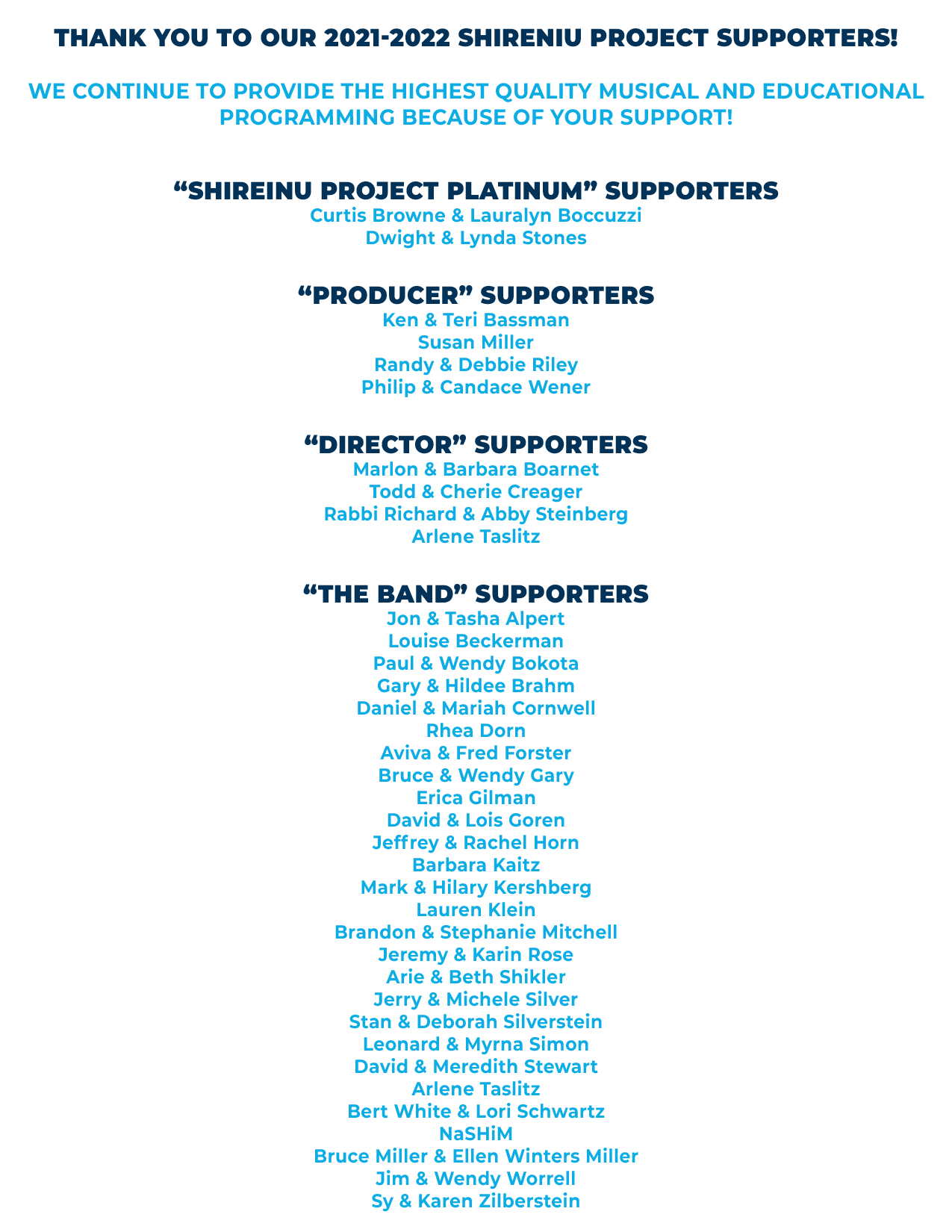 Highlights from past events:
"SHM DOES THE BEATLES" (2020)
Shireinu Project Virtual Productions
Over the course of the past year, the Shireinu Project released dozens of amazing virtual productions with the One Voice Band, our Shireinu Project Faculty and our very own talented SHM Members!
"One Foot in Front of the Other"
SHM Sunday Song Sessions
LIVE ON SUNDAYS AT 4:00 PM on SHM's Facebook Page (SHMTemple)
It's the perfect way to end the weekend - with our toes tapping and songs on our lips!
Rabbi Zive, Eddie Stephens, Alexis Rubell and other popular Jewish musical guests from around the world create these hour-long live sessions filled with intriguing Jewish themes of Jewish and secular music.
2022:
January 2: "SHM's Rockin' New Year's Love Fest"
January 16: "Our House: Family Love"
February 20: "A Post Valentine's Day Spectacular"
March 6: "That's What Friends Are For: Love and Friendship"
March 20: "You're Still the One: The Best Female Ballads"
April 3: "As Long As You Love Me" Teenage Heartthrobs"
April 17: "Am Yisrael Chai: Love for the People Israel"
May 15: "Let's Stay Together: An End of Year Song Tribute"
"Sunday Song Session Sing-a-Long 1"
"Sunday Songs Session Sing-a-Long 2"
"Vacation Tunes" from 2021
Adult Music Experience
2nd and 4th Wednesdays of the Month at 6:30 pm
AME continues it's exploration into the history of Jewish music, experience the music of famous Jewish and secular musicians, interact with some of top music educators in North America and even head on field trips!
Youth Music Summits
Various Sundays from 12:30-1:30 pm (Snacks Included)
For Ages 6-18
Do you love to sing? Ever wanted to get even better while singing music you already know? THIS IS FOR YOU!
Led by Shireinu Project Faculty Member Alexis Rubell, each YMS will bring a little something different, from developing your vocal range to creating sweet sounding harmonies!
The best part? Participants will earn the opportunity to sing with the One Voice Band during our One Voice Shabbat Services! It doesn't get better than this!
VISIT AND SUBSCRIBE TO OUR SHIREINU PROJECT YOUTUBE CHANNEL CLICK THE BELL FOR NOTIFICATIONS!
Mon, May 16 2022 15 Iyar 5782